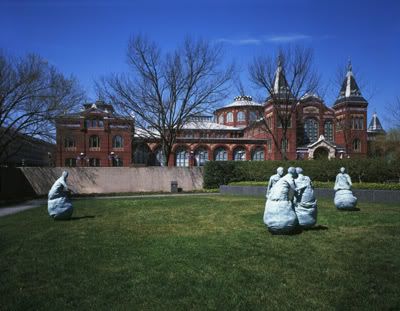 "The Last Conversation Piece" Bronze Sculpture by Juan Munoz (1994-1995)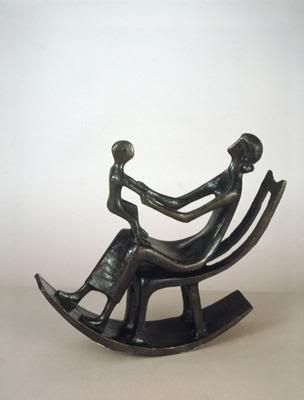 "Rocking Chair No. 2" Bronze Sculpture by Henry Moore (1950)
Should a meteorite strike the Hirshhorn Museum and Sculpture Garden in Washington, D.C. Chad Van Hoesen chose to save Henry Moore's 1950 bronze sculpture, Rocking Chair No. 2 and Nancy Johnson selected a bronze sculpture created in 1994-95 by Juan Munoz entitled, The Last Conversation Piece. First, Nancy will discuss her piece and then Chad will address the reasons for saving his.
My first impression of The Last Conversation Piece was that five figures that make up the scene reminded me of the roly-poly Weeble figures that sat in the Fisher-Price airplanes and buses. No matter how often you knocked them down, they always got up. In case of a disaster, I would hope that we could do the same.
This grouping invites you to participate by eavesdropping on the conversation or perhaps quarrel among the three central figures which are grouped together. You sense an antagonistic atmosphere as though two of the figures are ganging up on the third. Munoz relays this information by the positioning of his figures. One figure has its arm extended into the chest of another. Another figure is leaning forward as if he is yelling at the same figure. There are two secondary figures located some distance from the central three figures. As one might expect during a playground quarrel or a street brawl, these two figures seem to be coming to their aid. It is unclear whether they are making their way across the field to join the fight or to de-escalate the tension, but it is clearly human to want to help.
While this piece would be logistically difficult to save, I think that Munoz's grouping should be saved because it captures the human spirit. It represents the frustrating moments in our lives and our need to express our frustrations. The piece also reminds us that we are not alone. It is representative of how we deal with our conflicts, whether they international, domestic or simply personal.
Rocking Chair No. 2 is a sculpture in bronze created by Henry Moore in 1950. This piece celebrates the relationship between mother and child. The reason I choose to save this piece of artwork is because my wife just gave birth to our first child eight weeks ago today. I have been fascinated by the transformation in the both of us. We have gone from self-centered couple to Mom and Dad. We still catch ourselves marveling about the fact that we have a baby to take care of. When I look at this piece of artwork I see her rocking the baby during the night and after feeding time. It makes me pause to think about all those quiet moments that we get to spend with our new addition.
In this piece the mother and child are at play. The exaggerated curve of the chair and of the floor beneath her feet makes it look as if they are quickly rocking back and forth. The mother has her head thrown back which makes it look as if she's laughing. I feel nothing but happiness and joy when looking at this piece. I believe that is how most parents feel when they are at play with their children. In this day and age many of us are so wrapped up in our careers that we do not take the chance to enjoy simple pleasures, like rocking our children. By saving this piece of artwork, I hope to show parents that there is joy to be found in our children.
Noticeably, each of us sees art as a powerful way to capture different aspects of human relationships. The pieces we selected to save represent the flaws and the beauty of being human.